4 Massive Benefits of Installing a Fire Alarm System
Installing a fire alarm system in a commercial space offers several advantag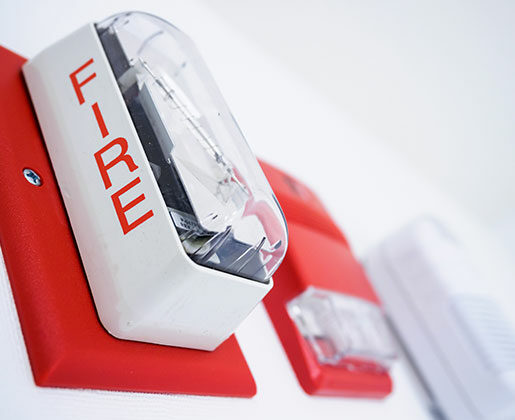 es that help protect lives and property. D & S Security provides fire alarm system in Glendale, Monterey Park, CA, Burbank, Pasadena, Montebello, Van Nuys.
Here are four key advantages:
Early Detection and Prompt Response: Fire alarm systems are designed to detect smoke, heat, or flames in their early stages. By installing a fire alarm system, you ensure early detection of a fire event, allowing for swift response and evacuation procedures. Early warning enables occupants to take necessary actions, such as calling emergency services, activating fire suppression systems, and evacuating the premises, reducing the risk of injuries and fatalities.
Fire Suppression and Damage Mitigation: Many modern fire alarm systems are integrated with fire suppression mechanisms such as sprinklers or gas-based suppression systems. When a fire is detected, these systems can activate automatically to suppress or extinguish the flames. By promptly suppressing the fire, the extent of damage can be significantly reduced, minimizing property loss and downtime for the business.
Improved Occupant Safety and Emergency Planning: Fire alarm systems play a crucial role in enhancing occupant safety. They provide audible and visual alerts throughout the premises, notifying occupants about the presence of a fire. This allows individuals to evacuate quickly and safely. Fire alarm systems also aid in emergency planning by providing designated evacuation routes, assembly points, and instructions for emergency response, ensuring a more organized and efficient evacuation process.
Compliance with Regulations and Insurance Requirements: Installing a fire alarm system in a commercial space is often mandatory to comply with building codes, regulations, and insurance requirements. Non-compliance can lead to legal consequences, hefty fines, and the potential loss of insurance coverage. By having a properly installed and maintained fire alarm system, you ensure adherence to these regulations and maintain a safe working environment for your employees and customers.
Overall, installing a fire alarm system in your commercial space offers early detection, prompt response, fire suppression, enhanced occupant safety, and compliance with regulations, all of which contribute to protecting lives, reducing property damage, and ensuring business continuity. Please do not hesitate to call.