Unfortunately, it's a fact of life that home invasions and burglaries are on the rise. Some Los Angeles areas are hit harder than others, but every homeowner should be aware of the dangers and ways to protect themselves. One of the most effective ways of ensuring you and your family's safety is through the professional installation of home security systems.
Many of our Los Angeles customers tell us how much safer they feel after their home security systems have been installed. If you've ever gone through a home burglary, you know the violation of privacy, safety and security it can cause. Not to mention the financial burden of losing your prized possessions.
Smart Phone Home Security Systems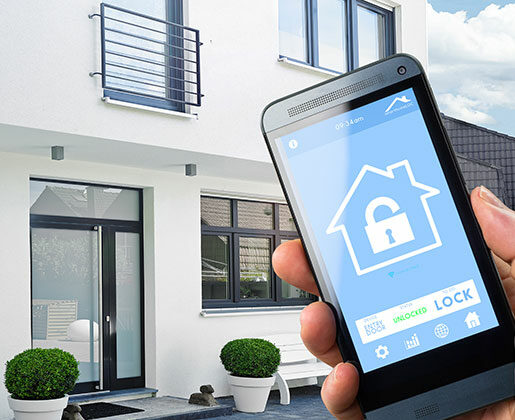 Now D&S Security is bringing the most up-to-date online monitoring and notification solutions to Los Angeles customers' home security systems. Systems can be connected so that customers can receive instant notifications on their phones or tablets of any type of disturbance, movement or entry in their home. Some of the options D&S Security can work into your online home security systems include:
Notifications of entries. Know when a door or window has been opened, when and any other information
Safety notifications. Carbon monoxide, water leak detection, smoke detection and more
Nearby motions. Get notifications of motions near your house including driveways, backyards, side entrances and more
Sound notifications. Some home security systems can even tell the difference between a human voice and a barking dog and let you know what it heard
Energy savings. Set your thermostat to cool or heat at various times or when it senses one of the home's residents approaching
Welcome home settings. Have multiple settings including lights, temperature controls and door locks react to when a home resident arrives
In addition to all the notifications, home security systems can include video cameras can also be synched to give real-time video or pictures of any of the events above. See a video of the motion in your Los Angeles driveway or patio, check on your children when notified they have come home from school and more.
D&S Security is your source for state-of-the-art home security systems throughout California including the Los Angeles area. Since 1987, D&S Security has been keeping up with the most innovative products and solutions in home security systems to help protect the residents of Los Angeles.
Home Security Systems in Los Angeles
Los Angeles goes through its up and downs in regard to burglary statistics. Some areas are hit more often than others and this can change over time. From 2017 to 2019, reports of burglaries were down approximately 20%. However, even with this decrease, 2019 has 13,000 burglaries. The truth is that burglars look for vulnerabilities and all Los Angeles residents should protect themselves and their property with state-of-the-art home security systems.