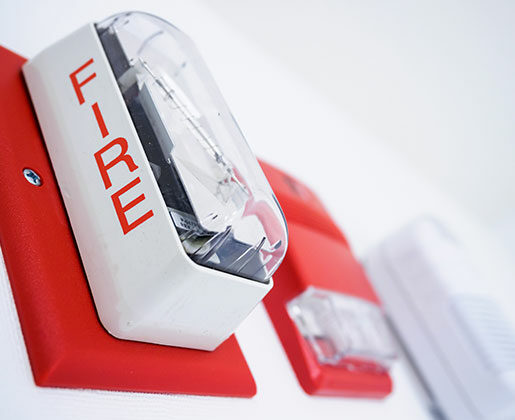 The fire alarm system you have in your Los Angeles building is only as good as it works. We're not talking about a simple alarm; we're talking about a sophisticated fire alarm system. One that starts the immediate process of warning occupants about the potential presence of a fire, the next steps in containing the fire as well as notifying the proper emergency response authorities.
Fire alarm systems have gotten more specialized. As a result, your local authority having jurisdiction may have updated requirements for your Los Angeles fire alarm system. Your best bet to ensure you are meeting the local code and requirements is to use a local Los Angeles company such as D&S Security for your fire alarm system. D&S Security works throughout the Los Angeles area with multiple locations and knows the requirements for fire alarm systems in many different areas.
We start with a thorough inspection of your Los Angeles location along with the needs and goals for your fire alarm system. Then we follow through with quality installation and equipment. If desired, we also can include UL Certified monitoring.
Commercial Fire Alarm System
Your insurance company may also have specific fire alarm system requirements for your Los Angeles location. Special equipment, tooling, inventory and vehicles many need a special fire alarm system as per your insurance coverage. Your insurance may also require monitoring which D&S Security can offer as part of your commercial fire alarm system package.
Residential Fire Alarm System
If you have a large estate or complex housing arrangement in the Los Angeles area, you should be sure to have the residential fire alarm system to match. Assets, personal treasures and more can be safety protected with prompt and effective fire management. And the peace of mind for safety is priceless.  Look to D&S Security to give you an inspection and estimate on your residential fire alarm system.
Los Angeles Fire Alarm System
The Los Angeles Fire Department, known as LAFD, covers approximately 471 square miles and 4 million people. Founded in 1886, LAFD is largest fire department in the US after the New York City Fire Department and the Chicago Fire Department. The department is known for their rapid response times of approximately 5 minutes for structural fires. The Los Angeles Fire Department continues to respond to increased emergency calls for both fire and emergency medical services (EMS). As an example of the increase, the number of incidents (individual calls) were 455,458 in 2017, an increase from 2013 of 12%.