Everyone is concerned with the safety and security of their home. It is your safe haven. You feel protected in your home. But certain unfortunate events can leave you feeling vulnerable and paranoid. This is why you need to install safety devices like alarm systems and CCTV to maintain home security. We, at D & S Security, will provide you with our latest computer and smartphone integrated security technology so that you have access to you your safety system all the time. You will get immediate notifications if someone tries to break into your house. In case of a fire, our fire alarm systems and smoke detectors will protect your house. You will be able to keep an eye your house all the time. We will only offer you the best and our dedicated team of professionals will always be at your service. You will receive all the information if anything goes wrong. If you are a resident of areas like Alhambra CA, Anaheim, Glendale, Los Angeles, Montebello, Pasadena, then do not hesitate to rely on our services.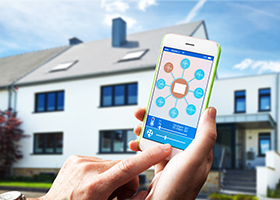 Take a look atsome of the points to keep in mind while availing home security plans.
In-depth background check
It is crucial to make sure that your service provider has a clean slate. You should definitely inquire after the reputation of the agency before settling on it. Make sure your service provider offers quality products and after-sales service. It is also important that the company has excellent reputation among past clients. You should go through the reviews thoroughly before settling on an agency.
You should make sure that the agency that you are going for has flexible plans that can be tailored according to your needs. It is also important that the company offers wide variety of products to choose from. The company should provide products from the top brands with the latest technology for best results.
If you think we are what you are looking for, then do give us a call at 800-521-1958.