Are you thinking of getting a system of alarms and security cameras installed in your home? Do you want to increase protection for yourself and your family? If the answer to the above questions is a yes, then you need to get a combination of different home security systems. We, at D and S Security, bring to you all kinds of security services for your home under one roof. Our employees are arduous workers and we understand how important safety is in a person's life. We, thus, make no compromises in the quality of our services. We provide services 24*7, without any breaks. Whether it is fire alarms, intruder alarms, CCTV cameras, or centralized monitoring, we have it all. We have been in business for about 3 decades in and around the areas of Anaheim, Burbank, Long Beach, Los Angeles, and Torrance.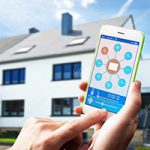 Here, we have listed 3 points to remember when getting a security system for your home. Take a look. 
Availability of Customization

 
Every home is different and every home has a specific set of security requirements. An area prone to robbery will require a more well-oiled intruder or burglar alarm than, say, a fire alarm. Make sure to choose a company which has the option of customized security provisions. 
Getting installed a set of security devices can be an expensive affair. Since this is usually a onetime investment, choose a service or a system which fits into your budget, without making unnecessary cuts in the level of safety required. Cutting corners can only put you and your loved ones in danger. 
When it comes to safety, there can be no compromise. So whether you are installing a security system by yourself or hiring a service to do the job for you, be sure to get the devices which will give you a well-rounded wall of sanctuary.  
So, now, if you are looking to install safety devices to your home, then give us a call at 800-521-1958, immediately.